XG Firewall
"Experience next generation performance, security, & control"
OneVoice is now partnered with Sophos in order to provide companies with the latest & most secure firewall available. We are determined to keep your company and customer's private information secure in order to prevent pressing issues such as identify theft, viruses, & unwanted hackers.
With these issues arising and becoming even more complex to deal with, it is an absolute must for small,medium, and large sized companies to not only have a basic firewall, but to have one that is quickly responsive in order to stay protected.
The XG is the definition of next generation security. It ensures that your company has the necessary defense to handle any attacks. It is equipped with Security Heartbeat, which allows your endpoint protection to communicate directly with your firewall in the event your company faces an advanced threat.
This integrated system will enable quick discovery and incident response; a threat that could potentially take weeks or months to resolve can be dealt with in a matter of seconds thanks to next generation synchronized security!
Call us for more information:844-358-9270
---
Optimized for Enterprise
Sophos XG delivers the ultimate enterprise firewall performance, security, and control.
• Fastpath packet optimization technology with up to 140 Gbps throughput.
• Revolutionary Security Heartbeat™ for improved Advanced Threat Protection (ATP) and response.
• Patented Layer-8 user identity control and visibility.
• Unified App, Web, QoS, and IPS Policy simplifies management.
• App risk factor and user threat quotient monitors risk levels.
---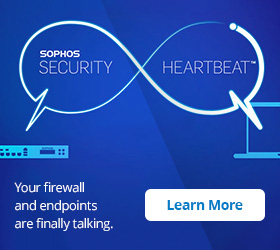 Security Heartbeat
Advanced attacks are more coordinated than ever. Now your defenses are too. Our revolutionary Security Heartbeat™ lets your endpoint protection and firewall talk to each other.
It's a simple yet effective idea that means you get better protection against advanced threats and spend less time responding to incidents.
---
---
Sophos XG provides unprecedented visibility into your network, users, and applications right from an all new control center.
You also get rich, on-box reporting as well as the option to add Sophos iView for centralized reporting across multiple firewalls.
• Sophos Firewall Manager Centralized Management.
• Sophos iView Centralized Reporting.
• Clustering and Redundancy.
• Flexible Deployment Options.